Pandemic or not, safety/traffic cones have all sorts of uses in various work environments. For many, cones are an "out of sight - out of mind" type of product, but when they are in sight they typically demand attention. Ritz Safety realizes that cones are something people plan to use as part of a larger scale project, but other times can be needed in a pinch to serve a variety of needs. To help you consider if you need cones on hand for your business, consider various cases.
1. Safety Cones for Traffic Flow Management
Probably the most popular use associated with cones, as well as other channelizing devices, is for traffic management. Whether it's to indicate the road is about to merge to one lane, or to let you know which way to go in a parking lot, cones are ideal indicators to manage, delineate and direct traffic. When it comes to managing traffic with cones, it's worth considering the high visibility that a cone with reflective collars provide to ensure that no matter what time of day or night paths are clear and visible. For cones and other channelizing devices please reference the federal "MUTCD" section Part6F, sections 6F.63, 6F.64, and 6F.65 for specification and use. Refer to your State and local traffic authority for appropriate use and requirements.
Here is a helpful link to MUTCD part 6F.
Here are a few recommended cone options great for managing traffic and flow:
2. Safety Cones for Warnings, Marking Hazards or Sports Field
Everyone notices the bright orange pyramid in the middle of a parking lot, playground, or manufacturing plant. They clearly indicate that more attention is needed because of a higher level of risk or danger. Whether a pothole, a broken piece of equipment, a chemical spill, a playground or a sports field safety cones provide a clear message to everyone to be aware of their surroundings, avoid areas and/or proceed with caution. It also helps reduce your risk of customer or employee injury based on the circumstance. Consider keeping these cones on hand in your workplace for both every-day, and non-planned uses.
Consider these helpful cone options: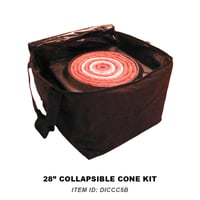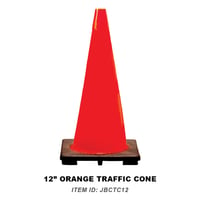 3. Safety Cones as Line Makers
Something being used more frequently across the country, in response to Covid-19 precautions, is use of cones as line markers. To help with the 6-foot social distancing recommendation from the CDC/WHO, businesses are using cones to indicate where customers should wait in line to help maintain safe distances. Unlike floor stickers which are oftentimes overlooked because of their placement on the floor, a cone commands your attention and clearly indicates where the next person in line should wait. Really any cone can be used as a line marker.
Safety Cone as Line Marker Examples:
Barricade Tape Traffic Cone Adaptor (Catalog Page 340)
4. Safety Cones for Blocking Areas
Cones can be used to block entrances or as a barrier to keep people out of certain restricted areas. Public venues, parking lots, streets, Confined Space openings, facilities…the possibilities are great for where/how cones are being used to restrict access areas for whatever various reasons. Cones paired with Cone bars, chains, and with barricade tape can be exceptionally effective.
Check out the different ways to block areas using cones:
5. Safety Cones for Communication
Beyond communicating a general message of awareness, there are now signs that are custom-designed to fit on top of cones to provide key information. For example, signs indicating 'Do Not Enter', 'Wet Paint', 'Caution' and many other messages are great for temporary use. Cone signs are not to replace roadway signs in a construction zone or on roadways. They only an enhancement to communicate to the motorist. And signs for cones, versus the previously mentioned floor signs/stickers, are much more visible and intrusive. Signs for cones may be a great addition to the cones already on hand in your workplace, see some options below:
Check out the different cone signs available in our catalog on page 341 or view our online section.
Regardless of how you use them, cones are clearly a great product to have in your inventory and part of your safety program, given their wide array of uses in a variety of short term or long term situations. With the recent COVID-19 pandemic in mind, the use of cones has risen as they keep people at safe distances, away from shut-down job sites, or direct traffic at checkpoints. The way cones are used today might be slightly different than they were yesterday, but one thing is sure, they'll always be a key product in safety.